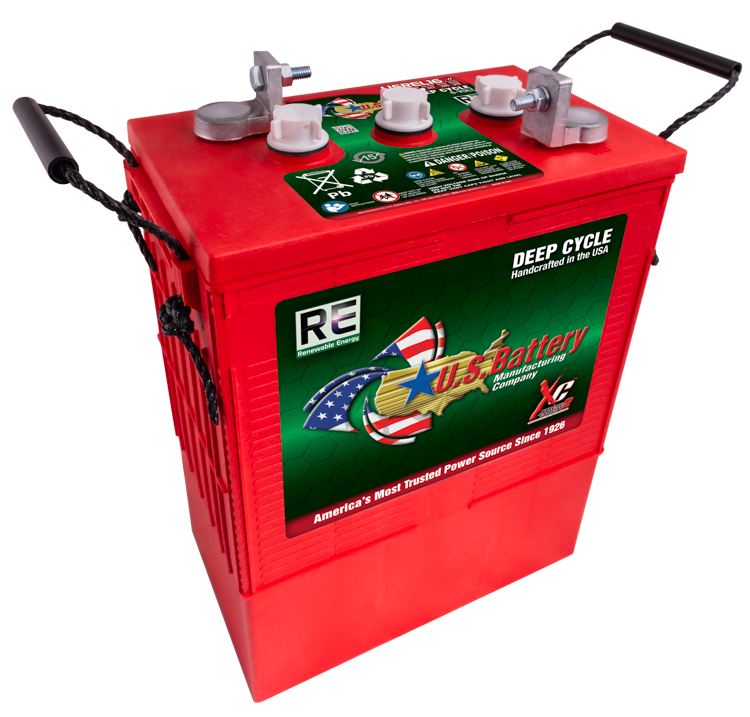 Length: Without Handles– 11 7/8" (302mm)
Length: With Handles– 12 7/16″ (315mm)
Width: 7 1/8" (181mm)
Height: 16 3/4" (425mm)
Flooded Lead Acid (FLA) non-sealed.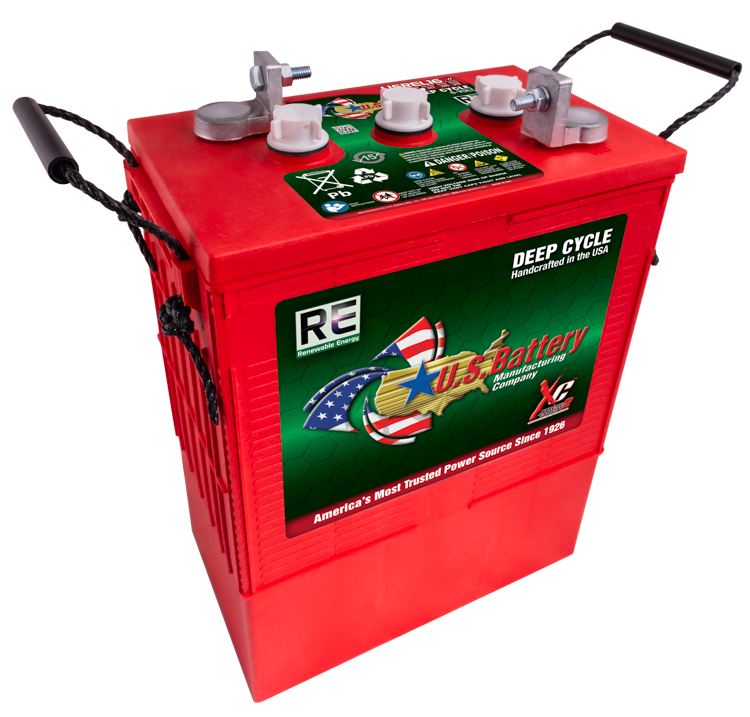 Wherever Deep Cycle 2-volt batteries are needed.
20 Hour Rate: 1100
5 Hour Rate: 962
Minutes of Discharge @ 75 Amps: 845
Minutes of Discharge @ 56 Amps: 1177
Minutes of Discharge @ 25 Amps: 2826
Polypropylene / Heat Sealed
*We are in the process of making a color change from green to red cases. As we sell through our green inventory, some customers may still receive green batteries.
U.S. Battery's Flooded Lead Acid batteries are engineered and proven to provide the fastest cycle-up to full rated capacity, and have the highest total energy delivered over the life of the battery.
Building the best Flooded Lead Acid Battery on the market comes from a better battery cell design, hand-made construction, and attention to details.
Made in America, U.S. Battery FLA batteries utilize the company's exclusive XC2™ formulation and Diamond Plate Technology®, allowing them to reach peak capacity in fewer cycles, higher total energy delivery, and an extended battery life. The high charge efficiency design also meets new California Energy Commission regulations for combined charger/battery charge efficiency. And because of U.S. Battery's unique design and variety of sizes in 6, 8 and 12-volt applications, the FLA batteries offer the most compatibility with the wide range of chargers used in the field. This is why U.S. Battery's proven manufacturing processes, along with its reliable and dependable service, continues to be the most trusted world-wide brand for more than 90 years.
U.S. Battery Product Comparison
| | US 125 XC2 ​ | US 1800 XC2 | US 2000 XC2 | US 2200 XC2 | US 145 XC2 | US AGM 2000 |
| --- | --- | --- | --- | --- | --- | --- |
| Chemistry | Flooded Lead-Acid | Flooded Lead-Acid | Flooded Lead-Acid | Flooded Lead-Acid | Flooded Lead-Acid | AGM |
| Dimensions | 10.25″L x 7.125″W x 11.25″H | 10.25″L x 7.125″W x 11.25″H | 10.25″L x 7.125″W x 11.25″H | 10.25″L x 7.125″W x 11.25″H | 10.25″L x 7.125″W x 11.875″H | 10.24″L x 7.09″W x 10.79″H |
| BCI Group Size | GC2 | GC2 | GC2 | GC2 | GC2 | GC2 |
| Standard Terminal | Molded-in UTL | Molded-in UTL | Molded-in UTL | Molded-in UTL | Molded-in UTL | Dual |
| 20 Hour Rate | 242 | 208 | 220 | 232 | 251 | 210 |
| Min. @75 Amps | 140 | 107 | 115 | 122 | 154 | 120 |
| Min. @25 Amps | 517 | 392 | 445 | 474 | 562 | 460 |
| | | | | | | |